1 / I want a max of comfort: the oils
Formulated with vegetable oils such as jojoba or olive oil , they combine softness and effectiveness.
Indeed thanks to their fat phase, they overcome all types of makeup, even the most tenacious waterproof mascaras . Most: they leave a feeling of comfort after rinsing without leaving a greasy film.
The right gesture: Apply oil to dry skin, massage with fingertips with circular motions on the face, lips, eyelids and eyelashes . Add a little water if necessary, massage again and then rinse with warm water.
2 / I only have 5 minutes each night: the wipes
Even if the skin specialists are not fans, it is better to use it rather than lie down with makeup. The wipes are pre-soaked with make-up removing formulas : micellar water or milk.
They are also often enriched with a moisturizing ingredient such as sweet almond oil to limit irritation. They act like a cotton by picking up the blushes and holding them back.
The right gesture : Unfold the wipe and put it on the face, neck and eye area, making sure to keep them closed. Do not rub but smooth the center to the edges and do not hesitate to use several if necessary.
3 / I like to massage my face: milks and creams
Their rich, velvety textures are often formulated with oils, such as avocado oil or sweet almond oil, to gently remove makeup during massage. The advantage: these products also contain nourishing ingredients like cocoa butter or shea butter .
The right gesture: Apply milk or make-up remover cream to dry skin and gently massage the face, neck and eyes . Then remove the product with a simple cotton pad or a cloth soaked in warm water.
4 / I need freshness: micellar lotions
They combine the lightness of water with the effectiveness of a milk or an oil. Their secret: micelles that have the ability to capture makeup and impurities and retain them on cotton.
Micellar lotions nowadays adapt to all types of skin by integrating into formulas ingredients with moisturizing, purifying or anti-aging properties.
The right gesture: Use a cotton soaked by part of the face: eyes, mouth, skin and renew it as long as it has traces of makeup . Know that some micellar waters rinse, and others not, you can check it on the bottle.
5 / I want a purifying action: foaming cleansers
These make-up removers contain surfactants (cleaning agents) or micellar particles to rid the skin of make-up, dust and excess sebum .
The fact of emulsifying the product with water makes this cleaning deeperthan the others but be careful, to avoid drying out the skin, better bet on foams enriched with mild ingredients such as water distilled witch hazel bio.
The right gesture : Take a dab of product in the palm of your hand and lather on the wet face in circular motions. Rinse preferably with cold water for a toning effect.
What molecules to adopt for a beautiful skin?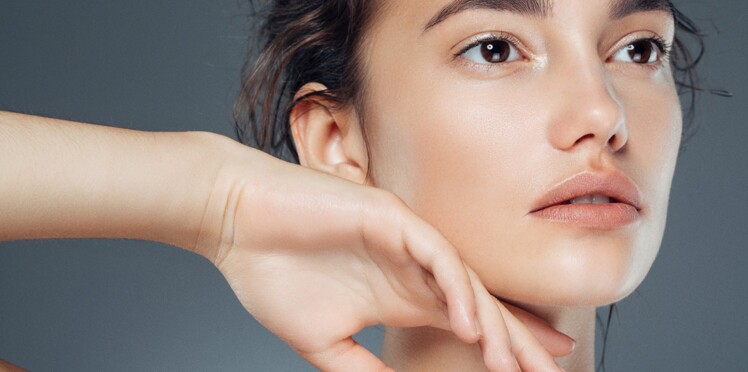 Hyaluronic acid: the super moisturizer
Naturally present in the skin, it has a water retention capacity out of the ordinary . Able to regulate hydration , it forms a protective film that prevents evaporation and leaves a very soft and velvety touch. This star asset of anti-aging products comes in several molecular weights.
High, it stays on the surface and re-moisturizes the epidermis, it is in this form that it is found in moisturizing formulas or for the first wrinkles . When it is medium or low molecular weight, it sneaks deep to plump wrinkles from the inside and restore density to the skin .
Salicylic acid: the imperfections specialist
Synthesized by certain plants such as willow or meadowsweet, salicylic acid is a champion of exfoliation , able to cleanse the skin by eliminating dead cells to unclog pores and prevent the appearance of pimples . It also has powerful purifying properties that visibly reduce imperfections for a unified and even skin texture.
Glycolic acid: the top of the exfoliants
It is also found under the name "fruit acids" or "AHA" and is a true gifted cell renewal . By exfoliating the upper layer of the epidermis, it is indeed able to revive the production of collagen and elastin, delay the appearance of wrinkles and smooth those already installed.
But it also allows other assets to penetrate better. Only downside, it can be a little aggressive applied on a dry or sensitive skin: to avoid irritation, do not skimp on hydration , for example by associating a serum rich in hyaluronic acid.
Essential fatty acids: stars of skin regeneration
These are the famous omegas 3 and 6 found in some vegetable oils such as sunflower or rapeseed. Since they are not synthesized by the body, they must be absorbed or applied directly to the skin.
This one uses them in particular to reinforce its hydrolipidic barrier, to maintain a good level of hydration, to fight against the inflammations, to help the cicatrization, and to fight against the free radicals responsible for the cutaneous aging. The key is better cell cohesion and a softer epidermis .
Retinoic acid: the gifted anti-aging
Active ingredient derived from vitamin A, retinoic acid is able to accelerate cell renewal and prevent new cells from aging too quickly. By increasing the thickness of the epidermis, it fills the wrinkles of the interior.
It also regulates melanocytes to prevent the appearance of pigment spots and neutralize the enzymes responsible for the breakdown of collagen and elastin.
It can nevertheless be irritating: be sure to combine it with other soothing active ingredients and apply it preferably in the evening or obligatorily with a sunscreen during the day because it is photosensitive.
Lactic acid: the ally of sensitive skin
This "postbiotic" is naturally present in the skin because it is made by certain bacteria of the cutaneous flora.
His speciality ? Lower skin pH and, by extension, help eliminate bad bacteria to keep only the good whose proliferation will help to calm redness , soothe the epidermis and strengthen the hydrolipidic barrier.
As a bonus, it also offers an ultra-gentle exfoliating action that has made it the leading active ingredient in night peels and scrubs for sensitive skin .
Ascorbic acid: the pro of brilliance
More known as active vitamin C, it combines the benefits! Anti-polluting barrier, it promotes the elimination of toxic substances and, thanks to its antioxidant properties, it also delays skin aging by stimulating collagensynthesis .
But it also has the property sought to mitigate pigment spotsby moderating the production of tyrosinase, the enzyme that activates the manufacture of melanin.
The opinion of the expert: Fabienne Alfonsi, Scientific Director of the Bioderma brand
"The acids most likely to affect sensitive skin are glycolic and retinoic acids because they have an exfoliating action well useful to revive the shine but potentially irritating.
To benefit from all their virtues without side effects, first test the product on a small area of ​​skin to verify that you support it.
Your skin is fragile? Choose an application at night and clean well in the morning to avoid photosensitization . In alternation, you can use without moderation a treatment with fatty acids or hyaluronic acid that soothe and hydrate ideally.