Mountain menu: the mulled wine and its derivatives
Lightened in alcohol (some of which evaporated during cooking), this cocktail is one of the cult drinks of mountain resorts. To drink on the slopes, to warm up at the end of a day of skiing.
The classic recipe: 

The mulled wine with spices and citrus zest

For 4 people. Pour 50cl of red wine into a saucepan with 80g of brown sugar, the zest taken from 1/2 lemon, that of 1/2 orange, 1 stick of cinnamon, 1 star of star anise, 3 nails of girogle and a minced grated nutmeg. 
Bring to a boil, then lower the heat and continue cooking for 30 minutes over low heat. Filter before serving. Garnish the glasses with 1 orange wedge.
The original recipe: 

The mulled wine with vodka

On the same principle as the mulled wine, we mix red wine (here of pinot noir, but another grape will also do the job), is spices (cloves, cinnamon, star anise). But in addition we add vodka and grapefruit juice. You want to try? 
Mountain menu: entries
Comteise crust, mini cakes with diots of Savoy, munster pie or crème brûlée with Beaufort, here are some of the classic or more original entries that you will be able to make for your Mountain menu.
The classic entry: 

The crust Franche Comte

For 4 people. Melt 30 g of butter in a pan and fry 2 chopped onions. Sprinkle with 20 g flour, stir well and add a few drops of marc du Jura. Stir in 25 cl cream and 80 g grated Comté cheese. 
Season the seasoning and spread on 4 slices of thick country bread. Garnish the toast with strips of smoked ham and bake under the grill for as long as necessary. Enjoy hot with some green salad leaves.
The original entry: 


These mini-cakes can be served as an aperitif. Garnished with diots (typical Savoyard pork sausages) and reblochon, they will also make an excellent starter, accompanied by a green salad. 
Liquid or fresh cream: what are the differences?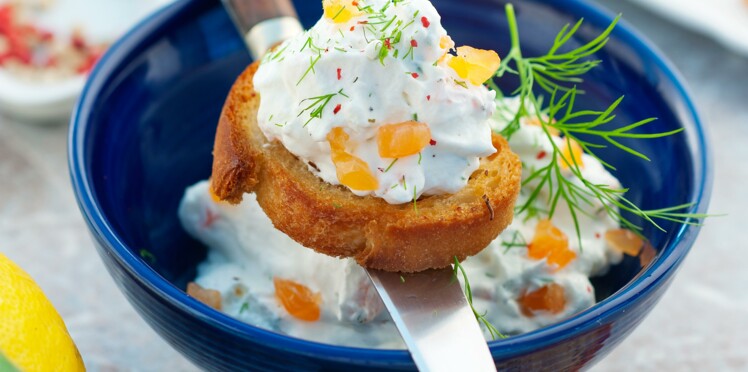 Two different textures, two singular tastes and yet it is always cream drawn from cow's milk . To obtain the name "cream", the product must contain at least 30% of MG . Meat , fish , seafood , vegetables , chocolate or fruit , the cream brings fondant, taste and creaminess. So, why are they different?
Liquid cream or cream
Liquid cream is a liquid or thick cream . There are several types: floret (whipped cream), liquid (soup) or thick as the cream which is slightly acidified .
The birth of the cream
The centrifuge turns the milk very quickly to separate it from the cream . It takes an average of 7 L of milk to have 1 kg of cream at 30% fat.
Cream to thick cream
At this stage, it is the cream ( milk flower ) that appears. It is recognized by its fluidity. It does not undergo any addition of lactic ferments . If you add some , you get thick cream. In this case, the process is to allow the cream to ripen for a few hours to allow it to thicken and acidify.
In cooking, how to tell the difference between the two
The liquid cream mixes with all preparations without thickening themespecially on quiches, savory pies, gratin Dauphinois, Chantilly , pasta … The crème fleurette, as for it, is the only one to be whipped.
 It also accompanies a risotto or a dish in sauce and is served in Chantilly. The tangy taste of thick cream gives an inimitable touch to traditional sauces and particularly to Norman cuisine. It is perfect with green vegetables – spinach for example – as a garnish or sauce for fish. For dessert, it's hard not to associate it with Tatin pie .
And lightened or light creams?
They can not have the terminology of cream because they have less than 30% of MG . They are used in cooking without problem, however they can never be mounted in Chantilly.